Picture this: a floodlight that not only brilliantly illuminates your outdoor space but also operates efficiently and effortlessly. That's exactly what our Solar LED Motion Sensor Flood Light brings to the table. This isn't your ordinary floodlight; it's the top-of-the-line, best-in-class solution that sets new standards in outdoor lighting.
Are you ready to take your outdoor lighting to the next level? Introducing our Solar Powered Flood Light, the ultimate solution to your lighting needs. This isn't just any flood light; it's the best choice for your outdoor space, and here's why:
Efficient Solar Power:
Our flood light is powered by an advanced amorphous silicon solar panel, harnessing the sun's energy to convert it into electricity. Say goodbye to skyrocketing electricity bills and revel in the savings. This flood light is your eco-friendly and cost-effective lighting solution.
Adjustable Design:
We understand that every outdoor space is unique, and so is your lighting requirement. That's why our flood light boasts an adjustable lamp head and motion sensor head, offering you flexibility and convenience. Customize the angle of both heads to perfectly match your specific needs. Plus, it's ETL-certified for added safety and peace of mind.
Convenient Operational Modes:
Our flood light provides three operational modes to cater to your lighting preferences:
Auto Mode: When motion is detected, the light instantly springs to life, staying illuminated for a period of your choice, anywhere between 10 to 120 seconds. This not only enhances security but also provides optimal visibility.
Normally On Mode: Need continuous lighting? Simply switch to "ON." After a full charge, the light will shine steadily for approximately 50 minutes, ensuring uninterrupted illumination whenever required.
Test Mode: Before installation, take advantage of the quick adjust feature. It allows the light to turn on for 7 seconds during both daytime and nighttime, so you can assess its performance and confirm that it meets your expectations.
Enhanced Sensitivity and Customization:
In contrast to other flood lights, our upgraded model boasts stepless sensitivity and time adjustment. This means you can effortlessly tailor the sensing range and lighting duration to your specific needs. No more one-size-fits-all approach; you get the perfect lighting setup for your outdoor area.
Please note: While external infrared lights might affect most security lights, our flood light is engineered to deliver consistent performance, unaffected by external infrared lights.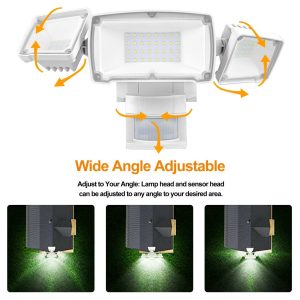 Upgrade your outdoor lighting to the top best with our Solar Powered Flood Light. Enjoy the advantages of sustainable energy, adjustable design, and customizable settings.
Don't settle for ordinary outdoor lighting; elevate your space with our Solar LED Motion Sensor Flood Light. It brings together brilliance, efficiency, and adaptability, making it the clear choice for those who demand the best. Illuminate your surroundings with ease and style. Get yours today and witness outdoor lighting redefined!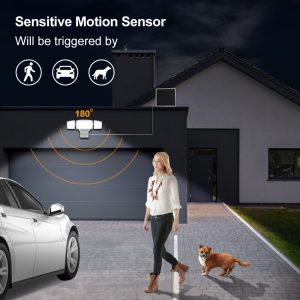 Illuminate your surroundings effortlessly and efficiently. Get yours today and watch your outdoor space come to life!