At the heart of every loving pet owner is the desire to provide the best for their furry companions. Our Elevated Pet Bed with a Removable Canopy offers a perfect blend of style, comfort, and innovation that makes it a must-have for your beloved pets.
Beat the Heat with a Cool Canopy
One of the standout features of this pet bed is the removable canopy. It's not just an accessory – it's a shield that provides full shade and blocks both sunlight and rain. This is a game-changer for the hot summer months. Now, your pets can enjoy the outdoors without sweltering in the heat. Whether it's a backyard playdate or a day at the beach, this pet bed ensures they stay comfortable and protected.
Sturdy, Reliable, and Built to Last
Let's talk durability. Our elevated pet bed is constructed with an alloy steel frame that offers exceptional stability and support. Four anti-skid feet ensure it stays firmly in place, even during playful moments. Rest assured, this pet cot is ready to accommodate pets up to 60 lbs without a worry.
Breathable Design for a Breath of Fresh Air
The fabric of this pet cot is nothing short of remarkable. Made with sturdy and durable Oxford material, it's further enhanced with breathable mesh. This construction not only withstands your pet's playful antics but also provides a long-lasting bed that keeps them comfortable. Whether they're stretching out for a nap or just having a good scratch, this bed can handle it all.
The Benefits of an Elevated Retreat
Elevated pet beds offer more than just a cozy spot to nap. By raising your pet off the ground, they get the gift of fresh air from all directions. Not only does it ensure excellent ventilation, but it also keeps them away from cold, hot, and hard surfaces. This feature is a boon for their joint health and overall well-being.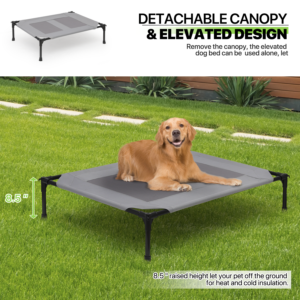 Weatherproof and Convenient
As versatile as it is, the removable canopy is perfect for outdoor adventures. It shields your pets from the elements, providing ample shade on sunny days and protection from rain. And the waterproof feature ensures that the bed remains dry even during wet weather. When it's time for indoor relaxation, the canopy is a breeze to remove.
Quick and Easy Assembly
You don't need to be a DIY expert for this. The assembly process is straightforward and tool-free. Just follow the instructions, and you'll have the bed ready in no time. Your pet will soon have a new, comfortable retreat they'll adore.
Portability and Cozy Retreats on the Go
What's even better is that this pet bed is lightweight and portable. It's perfect for weekend getaways, beach trips, and camping adventures. Your cat or dog will feel at home wherever you venture, snuggled up in the comfort of their cozy bed.
Don't compromise on your pet's comfort and well-being. Elevate their lounging experience with our top-rated Elevated Pet Bed. It's more than just a bed; it's an essential part of your pet's happy and healthy life. Get one for your furry friend today and watch them bask in comfort and joy.