The holiday season is upon us, and what better way to usher in the festive cheer than with the absolute best Christmas gift of 2023 – our meticulously crafted 18-Inch Santa Claus! Designed with unparalleled attention to detail and boasting a new 2023 design, this Santa is not just an ornament; it's a masterpiece that elevates your Christmas celebrations to a whole new level.
Why Our Santa Stands Out:
1. Unmatched Elegance:
This 18-inch Santa is not just a decoration; it's a symbol of sophistication and elegance. Handcrafted with precision from high-quality clothtique, a proprietary stiffened fabric material, our Santa is a testament to fine craftsmanship. The hand-painted details and mixed media accents bring this jolly figure to life, making it the perfect addition to your Christmas home ornament collection.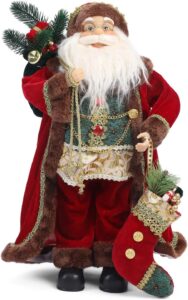 2. A Touch of Luxury for Every Home:
Our Santa goes beyond the ordinary. Whether adorning your mantelpieces or gracing your windowsills, this festive figure adds a touch of Christmas luxury to any home. Its timeless design transcends ages, making it the ideal decor piece for everyone in the family.
3. Interactive and Poseable:
Experience the magic of the season with Santa's poseable arms. Bring him to life in your preferred festive pose, adding an interactive touch to your holiday decor. This feature sets our Santa apart from the rest, making him a standout ambassador of joy.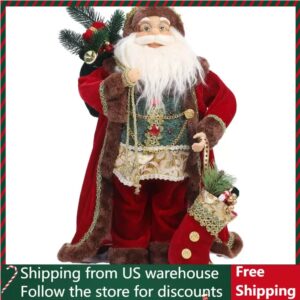 4. Stability Redefined:
Worried about decorations toppling over? Fear not! Our Santa stands stable on any flat surface, ensuring that he remains the focal point of your holiday decor without any wobbling or tilting. Enjoy peace of mind as you create a stunning Christmas display.
5. Real Wood Accents for Authenticity:
We believe in authenticity, and that's why our Santa incorporates real wood in small parts. This subtle yet impactful detail adds a touch of realism to your Christmas decor, making our Santa the most authentic and charming choice on the market.
6. The Perfect Christmas Gift:
Searching for the ultimate Christmas gift? Look no further! Our 2023 New Design Santa isn't just a decoration; it's a heartwarming present that encapsulates the magic of the season. Give the gift of joy, tradition, and elegance to your loved ones, making this holiday season truly unforgettable.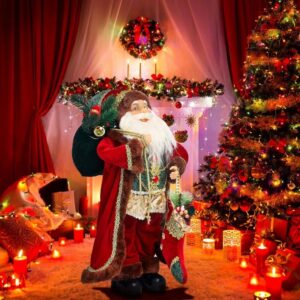 In conclusion, our 18-Inch Santa Claus is the epitome of Christmas magic. Handcrafted with love, featuring real wood accents, and posing gracefully, this Santa surpasses all competitors. Elevate your holiday celebrations with the very best Christmas gift of 2023. Order now and let the spirit of Christmas shine bright in your home! 🎅🎄🎁