Looking to enhance your shower experience? Look no further! Our high-pressure shower head is designed to provide you with an exceptional and invigorating shower like no other. Say goodbye to lackluster showers and embrace the power of our Hydro Jet Shower Head.
Elevate Your Bathroom Aesthetics
Our shower head is more than just a water outlet – it's a visual masterpiece. With its turbine blade design and curved water outlet, it exudes artistic elegance. Installing this shower head can instantly add a touch of luxury to your bathroom, making it a favorite among everyone in the family. Plus, its international interface ensures it seamlessly matches your existing bathroom fixtures.
Pressurized Perfection
Are you tired of weak water pressure during your showers? Our high-pressure shower head is here to save the day. Using micro nozzle technology, it increases the speed of the water flow, delivering a powerful, pressurized shower experience. Enjoy up to 40% water savings compared to ordinary showerheads. And for added convenience, it features an ON/OFF switch, giving you control over water flow.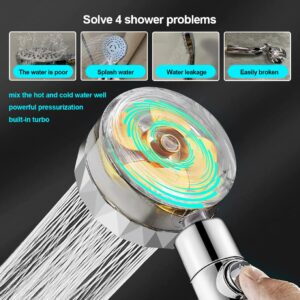 Easy Installation, No Plumber Needed
Don't worry about complicated installations. Our Hydro Jet Shower Head uses a G1/2 international standard interface, making it compatible with most hoses, brackets, or shower attachment arms. You can effortlessly install it yourself, no plumbers or extra tools required.
Propeller-Driven Shower Power
With its unique propeller-driven design, our shower head offers a powerful jet water mode, ideal for quickly rinsing away soap bubbles and hair. It's a fantastic choice for pet showers as well. Thanks to its internal structure and air-in technology, it maintains strong water flow even with low water pressure, ensuring you never face low water pressure issues again.
Healthy Filtration for Your Skin
Our propeller shower head features a health filtration system, including two PP cottons. These effectively remove impurities from the water, ensuring your family's skin stays healthy and safe.
Top-Quality Craftsmanship and Easy Maintenance
Crafted from high-quality ABS material and a stainless steel panel, this shower head boasts innovation, durability, and environmental-friendliness. Its universal 360-degree rotation allows for easy cleaning and adjustments.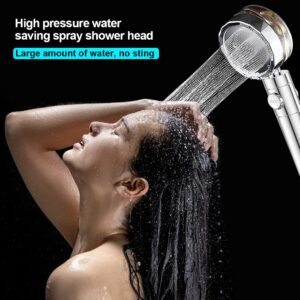 Simple Installation for Everyone
Don't stress about hiring a plumber. The easy installation process lets you simply screw it onto any standard shower hose. It can connect effortlessly to any standard shower hose, ensuring you can enjoy the benefits without any hassle.
Your family's well-being is important to us. That's why our propeller shower head is equipped with two PP cotton filters, effectively removing impurities from the water and safeguarding your skin's health and safety.
Crafted for Durability
This shower head is built to last. With high-quality ABS material and a stainless steel panel, it's environmentally friendly, easy to clean, and ensures long-term use. Its universal 360-degree rotation adds to its innovative design.
Effortless Installation
Skip the plumber – installing our Hydro Jet Power High-Pressure Shower Head is a breeze. Simply screw it onto any standard shower hose, and you're ready to enjoy invigorating showers that make you feel alive.
Upgrade your bathing routine today with the best-in-class Hydro Jet Power High-Pressure Shower Head. It's more than just a shower; it's an experience that redefines your daily cleansing ritual. Order now and unlock the secret to truly refreshing showers.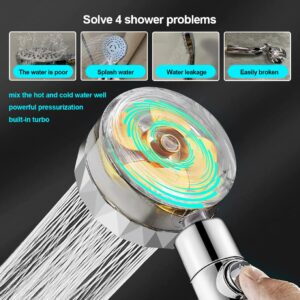 Elevate your daily shower routine with our Hydro Jet High-Pressure Shower Head. Experience the best shower of your life, save water, and enjoy a touch of luxury right at home. Order now and take your shower game to the next level!