Expandable Kip Bar Heavy Duty Adjustable Gymnastics Bars Kids Home Gymnastic Bar
Expert Craftsmanship ? With easy maneuvering and adjustable height, move the gymnastics parallel bars up and down with spring pin knobs, from 3ft to 5ft. For any kid, any height.
Highest Quality ? With a steel construction and a smooth powder-coated finish, your gymnastic equipment will be kept looking new and functional for years. The iron steel with pine wood bar is 1.58 inches in diameter, designed to hold over 230lbs of weight.
Safe And Stable ? With a double locking mechanism, one spring-loaded knob, and one lock-down knob, there?s no stress necessary. The welded triangle support plates at the base & stainless vertical support tubes keep bar sturdy and strong.
Effortless Assembly ? Easy construct gymnastics bars for a home for kids age 12 or any age. Instruction booklet included for straightforward building.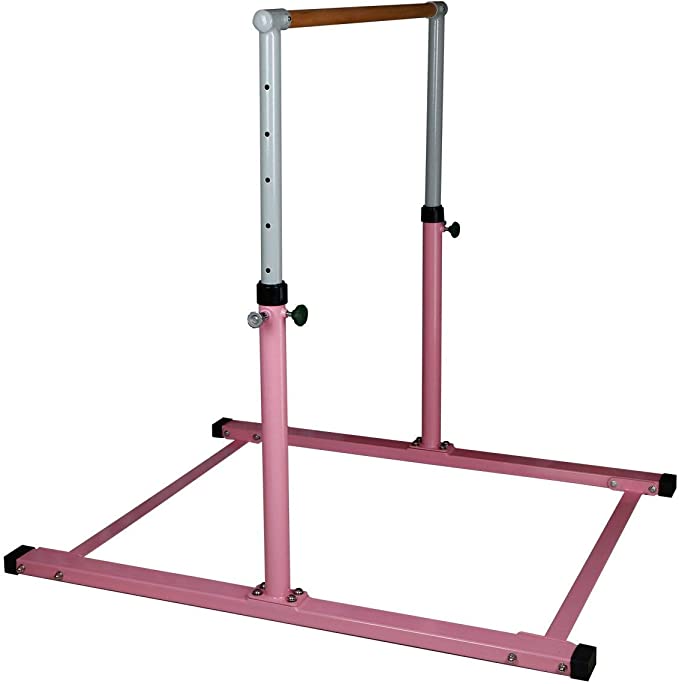 Expandable Kip Bar Heavy Duty Adjustable Gymnastics Bars Kids Home Gymnastic Bar Features:
Improve Children's Physical Fitness, Happiness, and Mental Health
1. Strong Fiberglas Bar Sub assembly Coated with Nature Wood Grain.
2. Double Locking Mechanism for Double Safe Height Adjustment.
3. Stainless Steel Regulating Arm.
4. Bended Connecting Rods Adds Security.
5. Double ABS Knobs for Convenient Assembly.
Multiple Benefits For your Kid?s Healthy Growth
Multiple Benefits in 1 Simple and Fun Work-Out
1. Beneficial to be taller
2. Strengthen muscles
3. Stretch ligament of leg effectively
4. Promote the growth of ossature
5.Good for better body shape
6.Improve your kids? balance and flexible
7.Help your kids build confidence and courage
Dimension:5ft(L) X 4.2ft(W)
Height: Adjustable from 3ft-5ft
Weight Limit: 230 lbs
Note: usually used with a 4ft wide mat under the bar
Free shipping
Free shipping on all orders in the USA.
AMAZING SUPPORT
Our amazing support team is here to help.
30 DAYS RETURN
Simply return it within 30 days for an exchange.
100% SECURE PAYMENT
We ensure secure payment and accept Stripe, Visa, Mastercard, Amex & Paypal.