Hello, fellow outdoor enthusiasts and light enthusiasts! Today, I am thrilled to introduce you to the dazzling world of our Perfect Shatterproof LED Bulb String Lights. As a product ambassador, I'm here to shed light on why these outdoor string lights are an absolute must-have for your outdoor spaces. So, let's dive into what makes these lights the best in their class and why they will elevate your outdoor experience.
Why You Need the Perfect Shatterproof LED Bulb String Lights:
Enchanting Ambiance: If you're looking to create a captivating and enchanting outdoor ambiance, look no further. Our string lights are designed to deliver the perfect glow, setting the mood for any occasion. With 15 hanging sockets adorned with shatterproof LED bulbs, you'll experience the charm of an Italian bistro right in your own backyard.
Year-Round Durability: Unlike some string lights that can't stand up to the elements, our Perfect Shatterproof LED Bulb String Lights are built to last. They are ETL listed as weatherproof commercial-grade lights, ensuring they can withstand the harshest of conditions – whether it's the hot sun, winter frost, wind, rain, snow, or damp conditions. These lights are ready for year-round outdoor use, ensuring you don't have to worry about taking them down every time the weather changes.
Adjustable Ambiance: What sets our string lights apart is their dimmer compatibility. You can easily adjust the brightness to achieve the perfect mood lighting with a dimmer switch (not included). Whether you're hosting a birthday party, family reunion, or a romantic wedding reception, these lights can add that extra touch of elegance. They're versatile and ideal for a wide range of outdoor spaces, from patios to gardens to cafes and more.
Waterproof Reliability: To ensure your peace of mind, we've paid meticulous attention to the installation process. Each bulb is securely tightened before the lights leave our factory, and a superior waterproof connection exists between the light head and socket. You can trust these lights to shine, even in wet conditions.
Why Our Perfect Shatterproof LED Bulb String Lights Are the Best:
Outstanding Style: Our string lights effortlessly blend style and functionality. The Italian bistro design adds a touch of elegance and charm to any outdoor space, making them the perfect choice for those who appreciate both style and substance.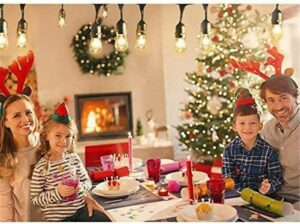 Unmatched Durability: While other lights may struggle to endure the elements, our lights are designed for year-round use. They're weatherproof commercial-grade lights that can handle everything nature throws their way.
Versatile Dimming: The dimmer compatibility of our lights sets them apart. You have the power to create the perfect atmosphere for any occasion with adjustable brightness. These lights are adaptable to various events and spaces, adding a touch of magic to your outdoor gatherings.
Enhance your outdoor ambiance and create a magical oasis with our Perfect Shatterproof LED Bulb String Lights. Don't miss the opportunity to elevate your outdoor gatherings and festivities with style, durability, and captivating illumination. Order now, and let the magic unfold in your outdoor spaces.