When the winter chill creeps into your car, don't let it spoil your ride. Introducing our Portable Car Heater, the ultimate solution to keep you warm and comfortable throughout the cold winter months. Say goodbye to shivers and frosty windshields – this heater is your ideal in-car companion.
Two-in-One Heating and Air Purification
Our car defogger does more than just heating – it combines the power of warmth and air purification. In winter, switch it to heating mode to swiftly warm up icy air, and defrost your windshield, ensuring clear visibility. In the fan mode, let it purify the air, filling your car with freshness and rejuvenating your senses.
Instant Heat for Your Comfort
Powered by your car's cigarette lighter, our heater doesn't keep you waiting for the engine to warm up. It rapidly heats up the air, so you can enjoy a warm and cozy drive from the moment you start the car. It's all about comfort and safe driving experiences.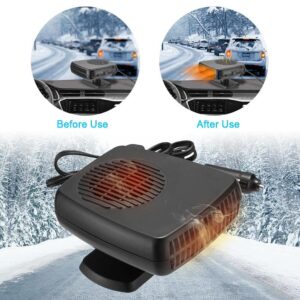 360-Degree Adjustable Heater
Customize your warmth just the way you like it. Our heater can rotate 360 degrees, allowing you to adjust the direction as needed. You can also change the outlet direction, ensuring a clear windshield and warming up your car's interior effectively.
Effortless Installation and Wide Applicability
Get your portable heater ready in no time. Simply attach the self-adhesive pad to your dashboard, place the heater, and plug it into the car socket. Choose your desired mode, and you're good to go. With its compact size (5.7×4.7×3.15 inches), it won't obstruct your driving sight. It's designed for hassle-free installation and usability.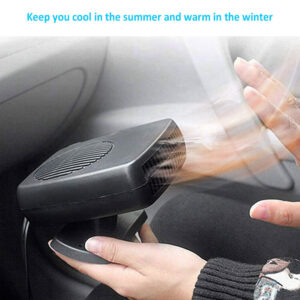 The Perfect Travel Companion
Our Portable Car Heater is not limited to a single vehicle type. It's compatible with all 12V cars, including trucks, vans, minibusses, and taxis. Whether you're camping, traveling, defrosting in winter, or cooling down in the summer, it's the ideal partner for your journey.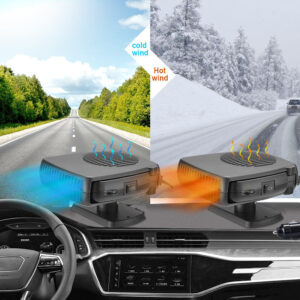 Say farewell to freezing rides and foggy windshields. Elevate your winter driving experience with the Portable Car Heater. It offers unbeatable convenience and comfort, ensuring every drive is a warm and pleasant one. Get ready to make your winter journeys cozy and enjoyable. Order now and leave the cold outside where it belongs!