Imagine stepping into your outdoor space, and with a simple touch, your surroundings come alive with the mesmerizing dance of flickering flames. It's not a dream; it's the reality created by our Best Solar Powered LED Flame Lights. Allow me to share why these lights aren't just a top choice, but the absolute best choice to illuminate your outdoor world.
I have a revelation that's bound to set your outdoor spaces aglow like never before – our Solar Powered LED Flame Lights have not only captured the top spot but have completely redefined the art of outdoor lighting. As your devoted product reviewer, it's my pleasure to shed light on why these lights aren't just exceptional; they're the undisputed champions of outdoor ambiance. Get ready to be illuminated on why these lights leave their competitors in the dark.
Why Our Top-Rated Solar Powered LED Flame Lights Outshine the Rest:
Ignite Your Imagination: Whether it's a serene evening at home, a festive garden party, or an adventurous camping trip, our Solar Powered LED Flame Lights add a touch of enchantment to any outdoor setting. Picture this – dancing LED flames that come to life as the sun sets, casting a spellbinding glow over your garden, lawn, patio, or park.
Solar-Powered Brilliance: Say farewell to the complexities of wiring and the never-ending cycle of electricity bills. Our LED Flame Lights are masters at harnessing solar energy, transforming it into a captivating display of light. As twilight falls, they ignite, enveloping your outdoor space in a warm, welcoming embrace.
Built to Endure: Crafted from premium ABS+PS plastic and cloaked in sleek black, these LED Flame Lights are the epitome of durability and sophistication. Measuring 20 inches by 2.95 inches by 2.95 inches, they command attention and respect.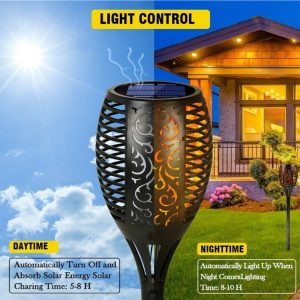 The Devil's in the Details: Here's the scoop on what this set brings to the table – 8PCS of Solar Powered LED Flame Lights, each armed with a 3.7V 2200mAh NiCr battery. A mere 6 hours of basking in the sun equips them to illuminate your world for a glorious 10-12 hours.
Adaptable Marvels: Our LED Flame Lights come with a key switch and light control feature, offering adaptable, low-voltage, energy-saving lighting. Their built-in dusk-to-dawn and solar sensor technology ensures they adjust to evolving light conditions with ease.
Weatherproof Warriors: These lights are designed to defy the elements. Even when raindrops fall, they shine brightly, come hail or high water.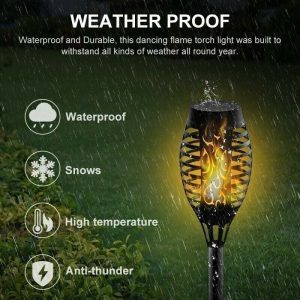 Effortless Installation: Without the need for a tangle of wires, installation is a breeze. Simply secure them to the ground using the hardware provided, and you're ready to embrace the night.
Intuitive Operation: Activate your lights with the internal ON/OFF button, and watch as they respond to the evolving light conditions around them. It's simple, straightforward, and utterly hassle-free.
Elevate your outdoor ambiance and create unforgettable moments under the stars with our Top-Rated Solar Powered LED Flame Lights. Illuminate your world and experience the unrivaled magic they bring to your outdoor spaces. Don't miss the chance to turn your outdoor sanctuary into a realm of enchantment. Order now and prepare to bask in the unmatched brilliance of these lights.