Picture this: a starry night, a crackling campfire, and the enticing aroma of sizzling meats and veggies over an open flame. The Campfire Grill Grate is your key to creating unforgettable outdoor culinary experiences. Whether you're in the backyard, a park, or by the seaside, this versatile grill will elevate your open flame cooking to a whole new level.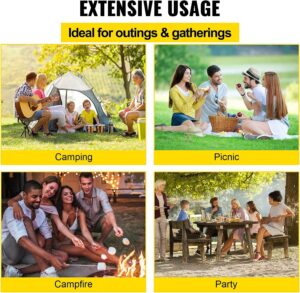 The Campfire Grill Grate is designed for outdoor enthusiasts who appreciate the art of cooking over an open fire. This double-layer swivel grill features a robust steel structure and a high-temperature-resistant baking paint surface. It's built to endure the rigors of outdoor use and provide a secure foundation for your barbecue adventures.
The Campfire Grill Grate is not just any ordinary grill; it's your gateway to culinary excellence in the great outdoors. This swivel grill is designed to make the most delicious grilled meats and roasted vegetables over an open fire. Its mesh wire structure allows you to cook a variety of foods with ease, and the innovative rotating baking tray ensures even heating, no matter what you're cooking.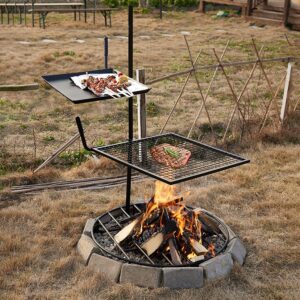 But here's what sets it apart:
the Campfire Grill Grate is engineered for durability. Crafted from heavy steel and coated with high-temperature-resistant paint, it's not only sturdy but also built to withstand the rigors of open flame cooking.
Benefits and Value Proposition:
Premium Material: This grill is made from heavy steel with a high-temperature-resistance paint, ensuring it can handle high heat and provide a stable barbecue foundation.

Simple Installation: Easy assembly means you'll spend less time setting up and more time enjoying your meal. The clever design securely fixes the baking rack, baking net, and baking pan, all while allowing for three different installation heights.

Hassle-free Operation: Control the heat with ease thanks to the rotatable design. After cooking, simply move the food to the upper baking plate to cool, ensuring every bite is as delicious as the last.

Humanized Design: The diamond mesh distributes heat evenly, and the heat dissipation handle keeps your hands from getting scorched. Plus, the four-steel-pipe composition of the pole offers three different installation heights for your convenience.

Versatile Use: Roast a variety of foods, from succulent cuts of beef to mouthwatering vegetables, fish, and chicken. Whether you're in your courtyard, at the park, or by the seaside, this grill will be your trusty companion for memorable moments.

Real-World Applications:
Imagine setting up your Campfire Grill Grate on a beautiful evening by the beach, sizzling fresh catch-of-the-day fish while the waves provide a soothing soundtrack. Or perhaps you're in a forest, surrounded by towering trees, creating the perfect campfire cookout with your favorite meats and veggies.
The Campfire Grill Grate transforms these scenarios into delicious, unforgettable experiences.
Customer Reviews/Testimonials:
Here's what satisfied campfire chefs have to say about the Campfire Grill Grate:
"The Campfire Grill Grate made our camping trip an absolute blast. Easy to use, easy to clean, and the food was incredible!"

"I can't imagine camping without it now. It's like having a portable gourmet kitchen by the fire."

Comparisons with Competitors:

When it comes to open flame cooking, the Campfire Grill Grate stands head and shoulders above the competition. Its durable steel construction, innovative design, and user-friendly features make it the top choice for outdoor cooking enthusiasts.