Your beloved pet deserves the very best, and that's exactly what our Portable Pet Tent House with Cushion provides. It's more than just a pet bed; it's a retreat designed with love and care to ensure your furry companion gets the comfort and style they deserve.
Advantage 1: Thick and Durable Mat
Let's start with the heart of the pet tent – the included mat. It's not just any mat; it's thick and durable, offering long-lasting comfort and support for your pet. No more worrying about wear and tear; this mat is here to stay.
Advantage 2: Stylish Leather and Wooden Buckles
The design of this pet tent goes beyond functionality. The leather buckle and wooden buckle are more than just stylish accents; they make assembly and disassembly a breeze. Practicality meets aesthetics, creating a pet tent that's as easy to put together as it is beautiful.
Advantage 3: Premium New Zealand Pine Construction
Quality matters, and this pet tent is crafted from high-quality New Zealand pine. It's not just about aesthetics; it's about durability and longevity. Your furry friend's new home is built to last, offering exceptional sturdiness and a touch of nature.
Advantage 4: Delicate and Smooth Cotton Cloth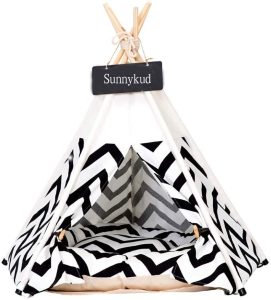 The cotton cloth used in this tent is not only breathable but also provides a delicate and smooth texture. Your pet will appreciate the comfortable resting place, and you'll appreciate the easy cleaning that comes with it.
Advantage 5: Precision in Sewing
Craftsmanship is at the core of this pet tent. Every detail is meticulously sewn, ensuring durability and a high level of craftsmanship. Your pet deserves a top-tier retreat, and this pet tent delivers.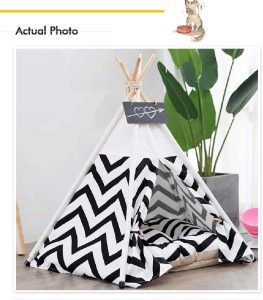 Material: The pet tent is made from 100% cotton, ensuring breathability and durability. The fabric is not only easy to clean but also easy to disassemble and machine wash, making your life more convenient.
Configuration: The package includes everything you need for your pet's ultimate retreat – 1 cotton tent, 10 pine poles, 1 pillow, 1 cotton rope, 5 plastic tubes, and 1 board.
Features: The size of this tipi tent creates a private and cozy atmosphere for your furry friend. It's more than a bed; it's a space for endless fun and relaxation.
Occasion: Whether it's the living room, balcony, or garden, this pet tent is perfect for all locations. Let your pet sunbathe, nap, and sleep in style. It's suitable for both indoor and outdoor use.
The Ultimate Cozy Experience for Your Pet
To top it all off, the thick cushion in the pet tent can be taken out and used separately as a soft pet bed. The thick padded cotton mattress ensures an exceptionally soft and comfortable experience for your pet.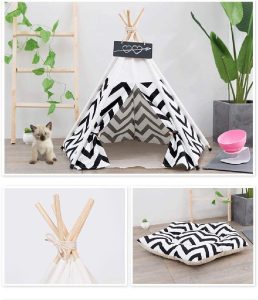 Don't wait any longer to give your beloved pet the comfort and style they deserve. Order our Portable Pet Tent House Foldable Kennel Dog Cat Bed With Cushion Pet Tipi Teepee now, and provide them with the ultimate cozy retreat!