In the spirit of spreading joy and making a grand statement in your neighborhood, there's no better way to celebrate the holidays than with the Melisheer 14ft Santa Claus Inflatables! This inflatable decoration stands a towering 14 feet tall, making it the centerpiece of festive cheer for your outdoor display.
Why Choose Melisheer 14ft Santa Claus Inflatables?
1. Unmatched Grandeur:
Stand head and shoulders above the rest with this towering 14ft Santa Claus inflatable. Make a statement that can be seen from afar, capturing the attention and admiration of everyone in your neighborhood. Melisheer brings you an inflatable that goes beyond the ordinary, setting the stage for a holiday display like no other.
2. Effortless Setup and Storage:
Gone are the days of struggling with complicated decorations. The Melisheer 14ft Santa Claus Inflatable is designed for hassle-free setup and storage. With its user-friendly design, you can have your festive display up in no time. When the holiday season is over, deflate and store it away with ease, ready to bring joy year after year.
3. Mesmerizing Nighttime Display:
Illuminate your nights with the built-in magic of Melisheer. Boasting six dazzling LED lights strategically placed within the inflatable, your Santa Claus comes to life as darkness falls. Create a magical and eye-catching display that will have neighbors and passersby in awe. Let your inflatable shine bright, spreading holiday spirit well into the night.
4. Weather-Resistant Durability:
Melisheer understands that holiday decorations need to withstand the elements. Crafted from durable and weather-resistant materials, this inflatable Santa Claus is built to endure outdoor conditions. Rain, snow, or sunshine – your inflatable remains vibrant and cheerful throughout the holiday season, ensuring it becomes a cherished tradition year after year.
5. The Melisheer Difference:
What sets Melisheer apart from the rest is a commitment to quality and a dedication to making your holidays truly special. The attention to detail in design, coupled with the use of premium materials, ensures that you are getting a product that exceeds expectations. With Melisheer, you're not just buying an inflatable – you're investing in a symbol of joy and festivity.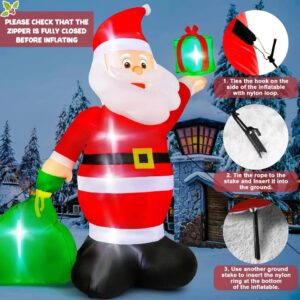 In conclusion, the Melisheer 14ft Santa Claus Inflatables is the top-tier choice for those who want to spread joy and create a grand holiday statement. With its impressive size, effortless setup, mesmerizing nighttime display, weather-resistant durability, and the Melisheer difference, this inflatable decoration stands out as the best among competitors. Elevate your holiday celebrations with the Melisheer 14ft Santa Claus Inflatables – a beacon of joy in your neighborhood!