When it comes to outdoor lighting, there's a myriad of options to choose from. However, if you're searching for the ultimate illumination solution, our Solar Motion Wall Light stands out as the best in its class. Let's explore why it outshines competitors and why you need it for your outdoor spaces.
Why Our Solar Motion Wall Light Stands Above the Competition:
Unmatched Durability: One of the standout features of our Solar Motion Wall Light is its remarkable durability. Designed with an IP65 waterproof rating, it can weather any storm and face the harshest conditions. This level of resilience ensures it will outlast and outperform many other outdoor lights.
Advanced Solar Technology: Unlike its competitors, this solar light utilizes the latest version of solar panels. This advanced technology maximizes its efficiency in harnessing solar energy during the day, ensuring that you have reliable and bright illumination throughout the night. When it comes to efficient energy conversion, our light takes the lead.
Smart and Energy-Efficient: The built-in human sensor and light sensor set this light apart as an intelligent and eco-friendly choice. It automatically detects movement within approximately 3 meters at night, illuminating your path instantly and conserving energy. The lights will stay on for 15-25 seconds after the last detected movement, adding to its energy efficiency.
Long Working Hours: With a fully charged battery, this solar light can work for an entire week based on 50 activations per night. This impressive duration outshines many competitors, giving you uninterrupted lighting for extended periods.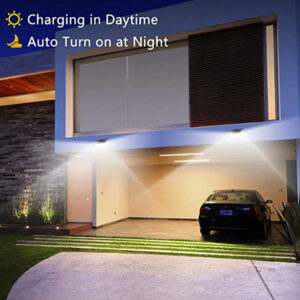 Versatile Installation: Our Solar Motion Wall Light is perfect for wall mounting and can be used in various outdoor spaces such as walls, gardens, yards, pathways, and porches. Its versatility and adaptability set it apart from lights that are limited to specific locations.
The Best Choice for Your Outdoor Lighting Needs: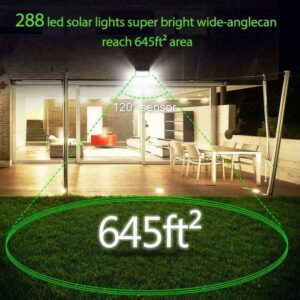 In summary, our Solar Motion Wall Light is not just a luminary; it's a standout performer. Its durability, advanced solar technology, smart motion sensor, extended working hours, and versatility make it the best choice for illuminating your outdoor spaces. Say goodbye to darkness and welcome the brilliance into your life. Don't settle for less when you can have the best – choose our Solar Motion Wall Light to elevate your outdoor lighting experience. It's the brightest star in the night sky of outdoor lighting solutions!