Imagine stepping into a garden where the melodious tunes of birds harmonize with the gentle murmur of flowing water. Our Solar Powered Water Pump Bird Bath Fountain is more than just a product; it's a masterpiece meticulously crafted to grace your outdoor sanctuary with the soothing enchantment of cascading water. Here's why it's a cut above the rest.
This fountain stands out as an environmentally conscious masterpiece, capturing the sun's energy and reducing your ecological footprint by eliminating the need for external batteries. The moment sunlight touches it, it springs to life, becoming an unwavering water virtuoso that champions both environmental conservation and your wallet.
Quality and efficiency are at the core of our product. Each fountain undergoes rigorous quality assessments to ensure it arrives in impeccable condition. Thanks to our express shipping service, you can revel in the aesthetic charm of this fountain within 24 hours of ordering, without any delay.
Efficiency meets reliability in our fountain. It boasts a state-of-the-art solar panel and an innovative brushless pump. It initiates operation swiftly and performs consistently, promising an uninterrupted, tranquil water flow. The brushless pump ensures longevity and silent operation, preserving your outdoor space as a sanctuary of tranquility.
Our solar fountain pump is a versatile gem. Whether your dream is to create an idyllic bird bath, enrich your fish tank, adorn a charming pond, or enhance oxygen circulation in your garden, this timeless solar fountain pump is the answer. Its setup is a breeze: immerse the pump, connect your chosen sprinkler head, and watch the water dance gracefully.
In terms of specifications, the fountain is constructed from high-quality plastic, with a powerful solar panel and a brushless pump. It achieves a maximum flow rate of 40 gallons per hour and can deliver water up to 18 inches in height, making it ideal for various water features. The fountain operates efficiently in just 1 3/4 inches of water and offers four spray styles.
To ensure optimal performance, make sure the solar panel receives ample sunlight. Remove the plastic film protector on the solar panel for better performance, avoid operating the pump without water for extended periods, and regularly maintain the solar water pump and keep the solar panel clean. Attach the nozzles after the water spraying commences for the finest results.
The package includes one Solar Powered Fountain Pump and six Installation Accessories. It's time to transform your outdoor space into an oasis where elegance and serenity reign supreme. Don't miss this opportunity; seize it now to introduce beauty and tranquility to your garden or backyard. Experience the joy of flowing water at the heart of your open-air haven.
Ensure the solar panel is exposed to sufficient sunlight for operation.
Remove the plastic film protector on the solar panel to enhance performance.
Avoid running the pump without water for extended periods to extend its lifespan.
Regularly clean the solar water pump and keep the solar panel clean.
Connect the nozzles after normal water spraying begins for the best results.
The Package Includes:
Solar Powered Fountain Pump x 1
Installation Accessories x 6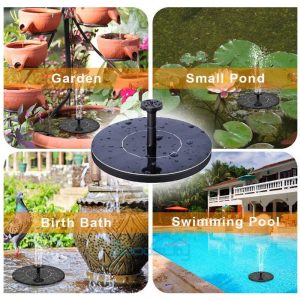 Transform your outdoor space into an oasis of elegance and serenity with our Solar Powered Bird Bath Fountain. Don't miss the chance to add beauty and tranquility to your garden or backyard. Order now and experience the joy of flowing water in the heart of your outdoor haven.